Close Attractions
just approx 35 mins walk from the village through the nature trail linked to the the famous gapping gill which you can be whinched down twise a year in the months of may &august see bradford pot hole club and the craven pot hole club web sites for the dates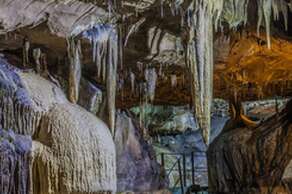 another great cave just around 20 mins drive just outside ingleton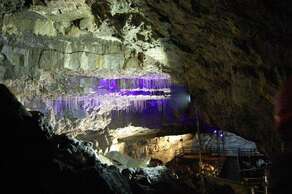 the famous water fall scence where robin hood takes his shower in the film prince of thieves 1991 by kevin costner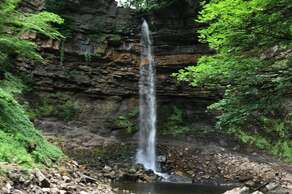 this is buster on the top of the cove tounge hanging out great walk and a nice pub called the listers good food and drinks on offer in the village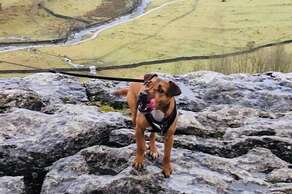 ribblehead viaduct -settle carlise railway
wensleydale creamery in hawes
wallace &gromits favourite cheese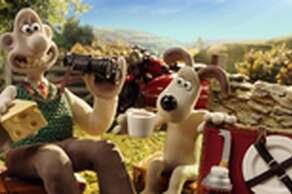 Browsholme Hall is a privately owned Elizabethan house in the parish of Bowland Forest Low in the borough of Ribble Valley, Lancashire, England. It is claimed to be the oldest surviving family home in Lancashire.
Broughton Hall - Yorkshire
One of the most successful and prestigious business locations in the UK, Broughton Hall Business Park is set amidst 3000 acres of beautiful Yorkshire parkland and is within easy reach of Manchester, Leeds and Harrogate. The historic listed buildings have been carefully and aesthetically converted to high quality office accommodation with sophisticated communications, ample free parking, peace and security. The Broughton Hall Estate extends to almost 3,000 acres together with a small village and Public House. The Hall is the private home of the family and is often used for film and T.V. dramas.
Every bank holiday you can get winched down Gaping Gill!

11th April - Whittington Races

25th April - 55th annual Three Peaks Marathon

Last weekend in July - Clapham Street Market

First weekend in September - Kirkby Lonsdale Victorian Fair

27th September - 47th annual Three Peaks Cyclo-cross race

2nd - 4th October - Ingleton Folk Weekend

5th, 12th &19th December - Grassington Dickensian Festival
Lancaster Castle - Lancashire
Lancaster Castle has dominated the town for almost 1000 years, but installations on the hill on which it stands goes back a thousand years further, almost to the birth of Christ. The Romans built the first of at least three military forts on the site in AD79. Little is known about Lancaster until 1093 when the Norman Baron, Roger of Poitou, built a small motte and bailey castle which was replaced 50 years later by a large stone Keep which still stands today as the oldest part of the Castle. Unfortunately, the Keep is part of the Castle which cannot be visited as it forms part of HM Prison Lancaster Castle. There are many things to see including where the Lancashire Witches were tried, beautiful Gillow furniture in the Grand Jury Room, the dungeons and drop room, hanging corner and the magnificent Shire Hall with its display of heraldic shields.